Machine Learning and Deep Learning Books
In this article we'll be talking about the popular books and some reviews of them. And also we'll talk about the importance and necessity of this books. Let's review the machine learning and deep learning books.
First of all, I would like to talk about when I need a book for machine learning and deep learning. Internet has lots of articles for every topic, lots of videos, lots of theoretical explanations, I agree with that idea. That's how I've been educating myself for a long time.
When did I feel loss?
However, at some point, I felt that I'm incomplete on theory part. Yes, I'm able to run lots of algorithms, understand and act according to the intuitives, feel successful on them. But when I tried to do an application of the Generative Adversarial Networks, I was like a baby who tries to walk but can't.
I was trying to learn the theory of machine learning algorithms. I felt that I didn't know much about the linear algebra(especially derivatives kill me). I wasn't good at the notation.
So what?
To be clear, I knew lots of algorithms and able to apply them to the problems, knew tricks for machine learning problems, can identify the root causes of the problem. However, at one point, you would like to learn the theory. You would like to say that "I'm also good at the theory of it." That's where you want a good machine learning engineer.
I will define the characteristics of the books as a headline, then I will overview the books. I'm not paid for these reviews. I at least read pages and check for some subjects for the books that I reviewed here. Most of them are the required book for university courses.
Introduction to Machine Learning by Ethem Alpaydin

That's the first book I've purchased. I can say that it's the book that you can overview the algorithms. One of the professors in Istanbul Technical University said that she is working on machine learning for 20 years (and she was the PhD. student of one of the biggest name of the AI) and the books is so good that she is reviewing the algorithms that she felt that she forgot from this book. Author is the professor at Bogazici University, Ethem Alpaydin.
Clearly explains the algorithms of Machine Learning, doesn't jaw.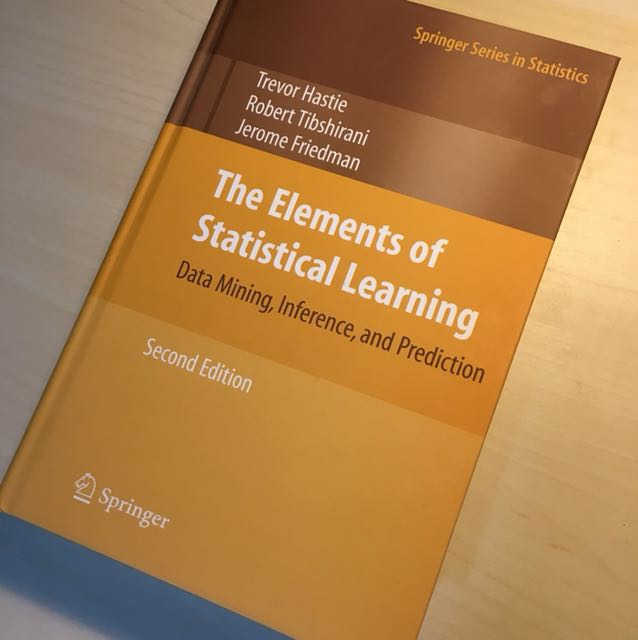 Elements of Statistical Learning by Trevor Hastie, Robert Tibshirani, Jerome H. Friedman
Books from very valuable Stanford professors. The biggest advantage, it is freely available at Stanford University Website. So check it before buying hardcopy version. It is more comprehensive than Introduction to Machine Learning by Ethem Alpaydin in terms of algorithms. Supported with graphs, clear explanations for algorithms. However, you need to have strong mathematical background. If you're beginner, this is not the book for you.
It unfortunately doesn't include linear algebra and probability review. If you feel that you are sufficiently good at them or you can learn them from the internet, this books is very good and very famous. It doesn't include topics about the deep learning. Just Neural Network topic. But one of the best book of the Machine Learning.
Introduction to Statistical Learning With Applications in Rby Trevor Hastie, Robert Tibshirani
If you're beginner, or need a book for start, this is easier than Elements of Statistical Learning. You will be more comfortable with that book if you're self-learner. Of course, you will have examples with R, however you should probably be familiar with R software.
Pattern Recognition and Machine Learning by Christopher M. Bishop
It's book that is based on Bayesian Theory and Bayesian Approach. So it starts with probability and Bayes Theorem. It will compel you to read more and more for the sections you want to learn. Not an easy book. But the oldest book in this list(It means it contains less errors). E-book is available at here, free. No need to say that it is math heavy.
Machine Learning: A Probabilistic Perspective by Christopher M. Bishop
Best book for me. I need to say that do not purchase the first three edition, they have lots of typos and problems on explanation of theory. However, very comprehensive, it touches details of lots of algorithms for machine learning including GANs. It has good Probability and statistics review. You will not be able to read 28 chapters, however, you will be satisfied with the chapters that you would like to learn.
More machine learning books will be reviewed, also check for my free Practical CNN course with lecture notes, on YouTube and ArtificialTurk.com.